Match Fishing at Barford Lakes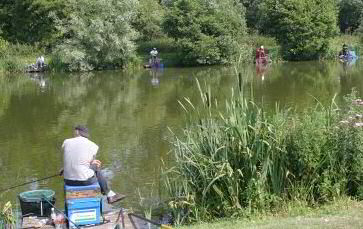 The Barford Lakes complex can suit the needs of almost any angling club, from hosting small events, right up to 150+ peg matches. Throughout the year there are also a few 100+ peg open matches which will be advertised on our What's on page.
We have a track record of managing successful events. Barford Lakes have hosted the Eastern Region NFA Disabled Qualifiers in 2002 and 2003 and the National Final in 2004. The regional Fish'O'Mania Qualifier has also been held at Barford Lakes since 2004 and we also host the Angling Times/Maver Pairs match.
Sky Sports 'Tight Lines' and Discovery Channel's 'Carp Crew 2' television shows, Angling Times, Angling Times Advanced Magazine and Improve Your Coarse Fishing Magazine have all featured the Barford Lakes complex and we are proud to host a yearly charity match (attended by Keith Arthur and Bob Nudd in previous years) in aid of local Norfolk Charities.
We are pleased to take club bookings for 10 or more anglers and have venues to suit everyone. If you want more information about how we can assist your club, then please get in touch via our contact page. You can also find out what, and where, fish are being caught on our Match Results page, which is updated after each event.
Match Fishing Lake Availability
We run open matches on Tuesdays (from April to September) and regular Saturday open matches at various venues (occasional Sundays).
We also run Silver Fish Matches on our Pleasure Lake (from October to March) which are regularly attended by former World Champion Bob Nudd.
All upcoming matches are listed on the What's on page together with contact details for the organisers.
The lakes and pegs we have available all year round are as follows:
The following lakes are also available for match bookings between October and March:
If you fish in a match on any Barford Lakes venue you are expected to have read and understood the Match Rules.
Please note – 1st Aid is only available at the main Barford Lakes site. It is the Match Secretary's responsibility to provide 1st aid for their members at all other waters.